Stone carpet (also called stone carpet or grain floor) is a synthetic resin floor made of millions of glued, small stones that are mixed with synthetic resins such as polyurethane or epoxy resins. The thickness of the grains or stones usually varies between 2 and 5 millimeters. This is especially important for the view of the floor because the smaller the grains are, the more homogeneous the floor will look.
Installation of Stone Flooring
Stone carpet is a decorative and seamless floor finish with a warm and natural look. This floor fits all interiors and can be applied to almost all solid and dry surfaces. Thanks to the airy structure that allows the floor to warm up more quickly, a combination of underfloor heating also certainly belongs to the possibilities.
Both new builders and renovators can appeal to this flooring method. Usually, the floor is placed inside, but in specific situations, it can also come out perfectly outside. This unique floor requires little maintenance and is available in all kinds of color combinations, sizes, and designs.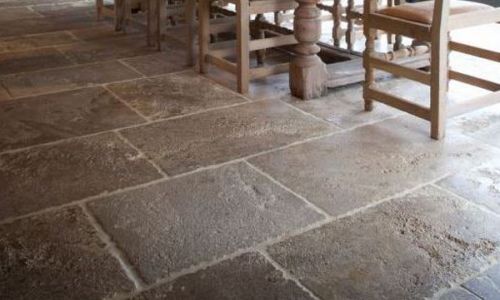 Open & Closed Structure
You can obtain the floor with an open or closed structure. While in the first case you obtain a tight-looking floor (in which all dirt is absorbed invisibly), with a closed structure the spaces between the stones are often filled with a shiny or matte filler.
For wet reasons, you are probably choosing a closed structure for reasons of hygiene. On the other hand, wet footprints will not show in an open structure, while they will, of course, do so in a closed structure.
Advantages & Disadvantages of Stone Flooring
A stone carpets floor can be walked on within 24 hours after installation and can be loaded within 48 hours after installation. It can be realized in almost all areas ranging from residential homes to apartments, showrooms, offices, and businesses. When placing in a damp room such as the kitchen or bathroom, a waterproof protective layer (coating) provides protection against moisture.
The floor is seamless, durable, maintenance-friendly, sound-absorbent, fire-safe, and not slippery at all. Moreover, the floor is dust mite free and therefore ideal for people with allergies.
Looking for a professional for placing a stone carpet? Through the quotation service, you can request customized and free-of-charge prices from specialists in seamless floors. Comparing prices becomes so easy!
The first disadvantage of stone carpets is that you should not use them as flooring for your shower. Despite the waterproof protective layer, this floor is not optimally resistant to constant contact with water. Certain substances are also difficult to remove with open-structure stone carpets. Think of chewing gum. A floor of stone grains with an open structure is also less suitable for people who like to walk around on the stockings.
Maintenance
The placement of a floor in stone carpet is best left to a specialist in the matter. After all, a good installation guarantees you a flawless floor for a longer period. When installing a stone carpet on a large surface, expansion joints must also be provided. Stone carpets floors are easy to maintain.
Because the dust remains between the pores, it is less noticeable than with an ordinary carpet. Occasionally vacuuming is however required. At regular intervals, you should also clean the floor with a scrubbing brush and a wet vacuum cleaner (especially in damp rooms). If the floor comes into contact with a liquid stain, clean it as quickly as possible with a wet vacuum cleaner.
Price of Stone Flooring
The price of a stone carpet is largely determined by the surface area, the desired appearance, and structure. For example, stone carpets with an open structure are usually cheaper than floors with a closed structure.
Are you looking for a professional for the placement of a stone carpet? Through the quotation service, you can request free and non-committal prices tailored to your project from specialists in seamless floors. This way you can easily compare prices and choose the most interesting proposal.
To know whether stone flooring is best for your home in cities of Charlotte, Raleigh, Greensboro, Wilmington and Fayetteville NC…fill in the no-obligation form to get a free quotation.

Company Details

Service Type
Provider Name
1st Flooring
,
11220 Elm Lane Suite 202-A
,
Charlotte
,
NC
-
28277
,
Telephone No.(704) 769-2132
Area
Description
1st Flooring is a certified and bonded service provider for all flooring solutions of Charlotte NC locals. We are a team of skilled and trusted flooring contractors