Trowel floors in Charlotte are one of the most favorite flooring in the city. They are strong, slip-resistant and scratch-resistant floors that are easy to maintain. They are often used commercially because of these excellent properties. In the meantime, these floors are also gaining popularity among consumers and you can find them more and more in the modern living room, bedroom, kitchen or bathroom.
What is a Trowel Flooring?
A trowel floor, also called mortar floor, is a seamless floor consisting of colored fine gravel or quartz grains that are bound together by an epoxy resin. A trowel floor owes its name to the way the floor mortar is applied. This is done manually with a trowel and a flat trowel. A trowel floor is not actually a cast floor but is considered by some suppliers to be in this category.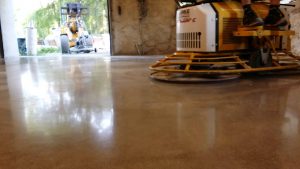 Application
Trowel floors are often used in occasions where a strong, easy to clean floor is desired. This can be in industrial environments, public places (shower and toilet areas), and in the catering industry (kitchens). Thanks to the excellent properties of this floor, you can also see it more and more in the modern interior. Trowel floors are very strong, less sensitive to scratching than plastic-based cast floors and completely liquid-tight.
Pros of Trowel Flooring
Resistant to heavy loads.
Resistant to chemicals and acids.
Seamless character and a modern industrial look.
Hard, very wear-resistant floor (less scratch-sensitive than a polyurethane pouring floor).
Easy to maintain making hygienic.
Can be combined with underfloor heating.
Sound-damping.
Slip resistant.
Cons of Trowel Flooring
Industrial character (for some this is an advantage).
Placing the floor quickly takes a few days.
Since trowel floors are not completely self-leveling, there is some work to get the floor nicely smooth.
Colors & Finish
Trowel floors can be supplied in a wide variety of colors. The grain size varies from 0.3 to 2mm. It is also possible to apply a figure or logo on the floor, which gives you a unique floor. You can opt for a matt or glossy finish.
Installation
1. First of all, the surface is thoroughly sanded and cleaned.
2. An adhesive primer is applied to the substrate to ensure that the floor can adhere well to the substrate. The floor must now dry (on average 24 hours).
3. The components of the floor are mixed together. The floor mortar is then applied to the floor with a trowel and neatly smoothed with a flat trowel.
4. Two coating layers are added that ensure the final protection of the floor. The floor must then dry again and can be walked on after 24 hours.
Trowel Floor VS Stone Floor
In fact, both floors are the same, the difference is mainly in the grain size of the used gravel or quartz in the floor. Stone carpet is coarser in structure and therefore has a different decorative appearance. A trowel floor has a somewhat 'flatter' look but is easier to clean than a floor of stone carpet. You can compare the surface of a trowel floor with the structure of an orange peel. This is not completely smooth but also not rough. Stone carpet is.
Price of Trowel Flooring
A trowel floor costs on average $75-100 square meter. The price depends on the number of square meters at most providers. The larger the surface, the lower the price per square meter. In addition, the degree of difficulty of the work also plays a role in calculating the price. If, for example, the installation of a trowel floor in adjoining small spaces with many corners, the placement will be more difficult than when pouring a floor on one large surface.
Would you like to call on a professional for the installation of a trowel floor? Via the form below you can request tailor-made and free-of-charge prices from specialists in the installation of floors. This way you can easily compare prices and choose the cheapest offer.
To know whether trowel flooring is best for your home in cities of Charlotte, Raleigh, Greensboro, Wilmington and Fayetteville NC…fill in the no-obligation form to get a free quotation.

Company Details

Service Type
Provider Name
1st Flooring
,
11220 Elm Lane Suite 202-A
,
Charlotte
,
NC
-
28277
,
Telephone No.(704) 769-2132
Area
Description
1st Flooring is a certified and bonded service provider for all flooring solutions of Charlotte NC locals. We are a team of skilled and trusted flooring contractors