Vinyl flooring consists of a flexible and resilient plastic. Sometimes people speak about Novilon. It is a synthetic material in PVC that is made up of several layers. Above the bottom layer there is a reinforcing and protective glass fiber layer, above that comes the decorative layer. The thickness of the transparent top layer determines the durability of the vinyl. An extra protective layer (available in different thicknesses) increases resistance to scratches and wear.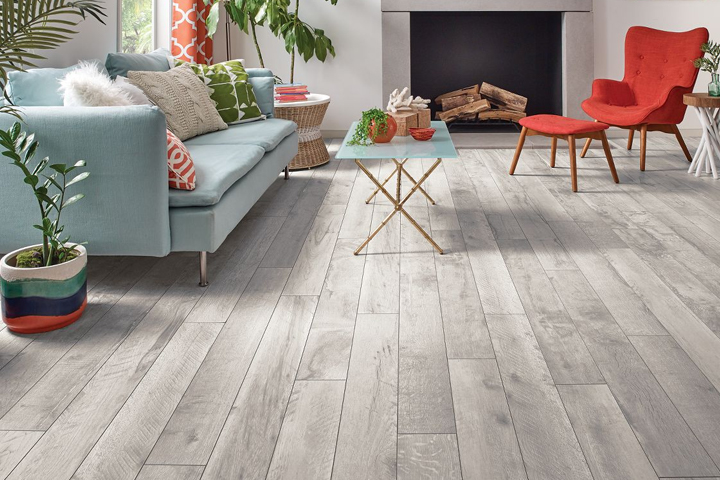 Types of Vinyl Flooring
Vinyl is available in different colors and designs. The designs are developed via printing techniques. You could say that vinyl is a cheaper version of all other floor methods. For example, you can opt for a wood structure in order to create a floor that looks like two floors of water on a floor in laminate or parquet. In addition to the wood pattern, you can also opt for a stone structure, fantasy motifs or an imitation of a marble floor.
A vinyl floor is available in tiles, strips or strips. Usually, the strips (slats) are chosen because they show the most similarities with laminate. Strips are also easier to apply than large jobs. The thickness of the vinyl floors varies between 1 and 3.5 millimeters. The more the floor will be loaded, the thicker and stronger (and therefore also more quality) the floor will have to be.
Vinyl floors are most often sold as imitation parquet. In addition, there are also a lot of alternative prints available that can give your home an unusual look.
Advantages of Vinyl Flooring
The first, and perhaps most important, an advantage was already mentioned: the prize. Vinyl imitates all other materials. So you can place your dream floor as it were at a cheaper price. A vinyl floor is also very sound-absorbing. Not only the contact sound (falling objects, heels of women's shoes, …) but also the ambient noise is significantly reduced by a vinyl floor.
Vinyl is also a strong material. The coating makes it a durable and scratch-resistant and wear-resistant floor. Moreover, vinyl is antistatic, so you will not suffer from small electric shocks in the winter months. A floor of vinyl is also dust-resistant, hygienic, odorless, shock-absorbing, heat-insulating, diuretic, flexible, comfortable and decorative. Not unimportant, both the installation and the maintenance of this floor is very easy to implement.
Disadvantages of Vinyl Flooring
And the other side of the coin? There are not many disadvantages. Keep in mind that there are major quality differences in the offer. The quality adjusts best to the use. Floors that are therefore heavily traversed or have to carry heavy furniture require higher vinyl quality. Vinyl is a durable material, but it still can not be compared to the strength of a wooden or tiled floor.
Maintenance
A professional guarantees you a perfect result, yet a handy do-it-yourselfer can also get to work himself. A carpet cutter and glue is indispensable unless you opt for a click system (similar to the placement of laminate). Always take the following into account during installation. Always ensure a subfloor that is dry, tear-free, clean and above all flat. If necessary, you must first level the subfloor. If you do not do this, there will always be unevenness under the vinyl. Never put the vinyl floor on top of an older vinyl floor or an already existing floor in parquet, laminate or tiles. If you do, a blister is almost inevitable.
A plus point of vinyl is ease of maintenance. You can easily vacuum the floor or wipe it off with a wet cloth. Now and then you should also use a special cleaning product (no abrasive products or detergents!). Do not use wax or gloss products if you want to limit the risk of slipping. In any case, you should wipe away your stains as quickly as possible. And in general, of course, the more often you use the floor, the more maintenance the floor requires.
To know whether vinyl flooring is best for your home in cities of Charlotte, Raleigh, Greensboro, Wilmington and Fayetteville NC…fill in the no-obligation form to get a free quotation.

Company Details

Service Type
Provider Name
1st Flooring
,
11220 Elm Lane Suite 202-A
,
Charlotte
,
NC
-
28277
,
Telephone No.(704) 769-2132
Area
Description
1st Flooring is a certified and bonded service provider for all flooring solutions of Charlotte NC locals. We are a team of skilled and trusted flooring contractors