Concrete floors have their origins in industrial construction, where they are praised for their robust character and rapid installation. Since a few years, they are also very popular in the housing industry, where they are mainly found in contemporary homes and trendy praise. In this article, we go over the most important properties of concrete floors and find out what the average price is for a concrete floor.
Pros & Cons Of Concrete Flooring
Just like any building material, the concrete floor also has its own specific advantages and disadvantages. To be sure that poly concrete is really your thing, you should check whether the properties of this material will meet your expectations: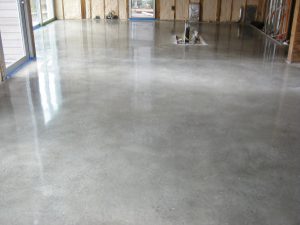 Hygiene
Thanks to its seamless finish, a concrete floor is very easy to maintain. There are no joints that can get dirty and the surface is perfectly even so that no dirt remains. In contrast to a ceramic floor, concrete is not resistant to certain acids or fats. To prevent fat deposits as much as possible, you can also finish the concrete floor with a protective layer that needs to be renewed every X number of years. You can compare this technique with the polishing of a parquet floor.
Expansion And Working Of Concrete Flooring
Under the influence of moisture and temperature fluctuations, many materials can expand and shrink. This is also the case with concrete. As soon as your floor area is larger than 40 square meters, you should, therefore, provide expansion joints that prevent the concrete from cracking when it expands. Especially with underfloor heating, sufficient attention must be paid to this. Hairline cracks are also common on concrete floors. These are hardly perceptible to the naked eye and do not have any adverse effects in terms of strength or quality.
Maintenance of Concrete Floors
Protecting or polishing the concrete floor can be done with many different types of finishing products. These are not always visible to the naked eye and sometimes need to be renewed. Especially in the kitchen, where many acids and fats are present, it is recommended to place a protective coating. The weekly maintenance of a concrete floor is best done with lithofin products. Brown soap is not recommended because it lays a layer of grease on your floor over time. Concrete floors are generally well maintained and do not quickly show dirt or dust.
FAQ
Concrete floors can be installed for both renovation and new construction. Large areas have been designated to obtain a good result. Below you will find an answer to the most frequently asked questions about the concrete floors:
The thickness of concrete floor
Placing a concrete floor often requires sufficient space. This is usually not a problem with new buildings, but with renovation works, you must first measure properly. A minimum thickness of 10 centimeters is generally recommended.
Underfloor heating of concrete
floors Placing underfloor heating under a concrete floor is perfectly possible. To prevent tearing it is important to provide sufficient expansion joints and also to respect the minimum thicknesses. Underfloor heating can be an excellent choice to break the cold feeling of concrete during the cold winter months.
Floor construction from low to high
– Reinforced stamped concrete with a thickness of 12 centimeters
– Water pipes, electricity, waste pipes
– The pressure-resistant insulation layer of minimum 6 centimeters
– PE-foil
– Reinforced poly concrete with a minimum thickness of 10 centimeters.
Cost Of Concrete Flooring
The average price of a concrete floor fluctuates between $60-160 per square meter. This price difference is not only determined by the chosen thickness and finish, but also by the available space. Large surfaces significantly reduce the average price. The number of corners and hard-to-reach places will also have an impact on the price of your concrete floor.
To know whether concrete flooring is best for your home in cities of Charlotte, Raleigh, Greensboro, Wilmington and Fayetteville NC…fill in the no-obligation form to get a free quotation.

Company Details

Service Type
Provider Name
1st Flooring
,
11220 Elm Lane Suite 202-A
,
Charlotte
,
NC
-
28277
,
Telephone No.(704) 769-2132
Area
Description
1st Flooring is a certified and bonded service provider for all flooring solutions of Fayetteville NC locals. We are a team of skilled and trusted flooring contractors