A high-quality floor quickly represents 20% of your interior budget. "Give you 10,000 euros to the renovation of your living room, then count on 3,000 euros if you want parquet", says interior architect Stefanie Coninx. One more reason to think carefully about your floors. With these five tips you get the most out of your interior … and your pennies! For more flooring tips click here.


Tip 1: Look at your lifestyle
"The most important question: how do you live ?: A family with children needs a low-maintenance floor that can take a beating, which means that ceramic tiles are the best choice: with natural stone and wood you have to look out for certain products," Coninx says. " Epoxy is not scratch resistant again, but take into account the advantages and disadvantages of each type."
Do not change your lifestyle – "That does not work anyway, so you better choose an alternative, and I notice that young people are less concerned about stains." Do you? Then tie up the fight with our Stain Guide!
Make dirt invisible – But the most common complaint, you remain the dirt too see. "If you want to avoid that, then choose a floor with structure and shades for all materials, even for tight floors in epoxy, and if there is a tad in it, the dirt will be less noticeable."
Tip 2: Go for a total concept
"Look at the rest of your home If I am with customers, we bring all the interior elements together and it is always better to look at the whole."
Request samples – "You can easily adjust the color of your walls but keep your kitchen and other furniture for years to come, so ask samples to see if your future floor fits in. This is possible for all floor types, although some manufacturers do ask a small fee… "
Tip 3: Keep in mind space
"Your floor has a big impact on the feeling of space: for example, do not place large 80- by 80-centimeter tiles in small rooms, but rather 45 by 45 centimeters (45 centimeters) in order to create more joints, which makes the room appear larger optically."
Accentuate the length – "Always lay the floor in the longitudinal direction of the room to emphasize the length – not only for parquet or laminate but also for rectangular tiles, especially in narrow rooms."
Let the room appear higher – "If you opt for a dark floor, optically increase the ceiling with a light ceiling, and in low rooms, you can let the curtains run from top to bottom and choose wallpaper with vertical lines."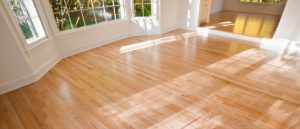 Tip 4: Find alternatives
Wood creates a warm atmosphere. That is why Coninx likes to use parquet. "But sometimes it's not a good idea, and you better choose an alternative."
Parquet tiles – "In the vicinity of a wood-burning fireplace, for example, you always have to lay a stone floor here: parquet tiles perhaps: this is how you combine the ease of use of ceramics with the warm appearance of wood, but pay attention: make sure that the joints have the same color as the tile. Otherwise, you immediately see that it is not a real parquet. "
Cement tiles – "I often use the ceramic version in the bathroom, which does not become so slippery." Pay attention in your living room: do not lay down cement tiles with a pattern everywhere, create peace with larger, even surfaces. "
There is also a cheaper ceramic version. "But with a real cement tile, you do not see when a piece comes loose.The material is colored in depth."
Tip 5: Clear Zones
Interiors are becoming more open. A floor is, therefore, a useful tool for demarcating zones.
Follow the lines – "For example, parquet in the seating area, and tiles in the rest of the living room, just follow the lines of your interior, and always place the floors in line with walls."
Seamless transition – "If you combine parquet and tiles, make sure that there is a seamless transition, without a wooden slat, otherwise you create a framework that is not really beautiful, but also take into account the thickness of the different floors", concludes Coninx. "So that the whole is equal in height."

Company Details

Service Type
Provider Name
1st Flooring
,
11220 Elm Lane Suite 202-A
,
Charlotte
,
NC
-
28277
,
Telephone No.(704) 769-2132
Area
Description
1st Flooring is a certified and bonded service provider for all flooring solutions of Charlotte NC locals. We are a team of skilled and trusted flooring contractors